Quite often in the business world, the stories behind the companies and businesses hardly get a mention. What is fascinating about working with companies going through the process leading to employee ownership is, not only how different and diverse they are but that they all have a journey towards employee owned status –from the beginning to the beginning of something new(ish) with all the highs and lows in between.
We are very fortunate to work with many amazing people and companies on their road to becoming employee owned. When we met Anna and Howard Jones, the couple behind Just Pudding Basins, we knew that we had met two entrepreneurs to inspire and that we wanted to know their story (and not just because it had puddings and dogs in it).
So if you are sitting comfortably, spare a few minutes and read on.
An opportunity
The Just Pudding Basins story begins in 2012 when Howard and his wife Anna had the opportunity to purchase injection moulding tools to manufacture plastic pudding basins. They made that purchase and then made and sold the resulting pudding basins to wholesale and retail outlets. In the beginning, the range comprised of just seven bowl sizes.
Howard had already "promised" Anna that this new business venture would always be very small and low maintenance, something to fit into their lifestyle after their (five) children had left home. The other thing Howard had promised was that the business would never require any staff! Anna, taking Howard literally, named the business JUST Pudding Basins.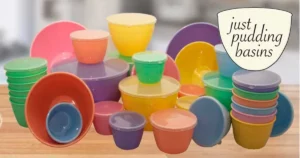 Expanding premises
Their first premises was in a converted cowshed on the beautiful Barnwell Manor Estate, very near to where Howard and Anna lived at the time. In the beginning, the lifestyle element of the company worked well as, not only did the couple, very quickly discover that working together was in their inspiring words an "immense joy (and still is today)" but once the carrier had collected the basins for the day, at about 3pm, Anna and Howard could walk their dogs on the farm and head off home stress free- they really felt that they were living the life. However as relaxing as all this was, being the business people which they are, they very quickly found that they needed to generate considerably more income. So it came to pass that Howard had to break his first promise – it could no longer be JUST seven bowl sizes, they needed more products in the portfolio.  They did their research and looking to diversify, came across a range of cleaning and restoration products manufactured in America.
Somewhat nervously, they ordered their first consignment.
Exploring new avenues of income
Anna was keen to further explore on-line retailing and so she listed a few items on Ebay and Amazon to 'test the water'. Well, that was it and that really was the end of the leisurely 3pm finishes (but not the dog walking).  Very quickly the couple had established a full time (in Howards words "a proper") business. They soon outgrew the cow shed and moved within the estate to a silage shed. Things were definitely on the up.
The silage shed turned out to be just too small and they required even larger premises to produce the basins and satisfy their burgeoning on-line trade.  And here it comes, the decision so many business people make and it is enormous and brave – Anna and Howard took the decision to sell their home and not only down size but also relocate to Lincolnshire thus generating sufficient capital to buy their first business premises.
Building the team
This meant that promise number two then had to be broken – they needed staff.
They took on their first colleague Barry, who remains with them today and with his (and the others who joined) help, the company grew the product range to approximately 500 items and made a necessary further move to even larger premises.  Although still a small business Anna and Howard say that they were/are very lucky to be supported by eight exceptional team members who not only work very hard but  also care deeply about the business. It was with this knowledge, that Anna and Howard began to thinking about taking a slow exit from the business.
An easy decision
They say that the next decision for the company was the easiest one of all. From Just Pudding Basins to just a whole lot more.
Their children, all leading other career paths, were not in the company succession plan.  Knowing that their small, loyal team of colleagues were a very large part of their success, Anna and Howard, thought about the next stage of their company's journey where they could play their parts in the business on a reduced basis but at the same time hand over to their colleagues in a meaningful way and without it being necessary for them (their colleagues) to make any financial investment. It was important for the couple that for the employees, going forward, it would be business as usual.  They followed their collaborative management style instincts and it soon became clear that they should move the company from their ownership to being owned by their employees via an employee ownership trust.
And that's just what they did in June, 2022.
This is not the end.
If you think an EOT might be the right succession plan for your business or you would like to find out more, take a look at our EOT webpage or contact us here.