We are still open for business, however following the advice of the government we have closed our office and the team are all now working from home.
This will not impede or interfere with our normal level of service.  To contact us, please either:
telephone the office using our main number and you will be transferred to the appropriate person; or
email the person you are dealing with (or for any new enquiries, info@postlethwaiteco.com)
Meetings can be held using telephone conferencing or over Zoom or Microsoft Teams.
The Postlethwaite team wish all of you continued well being in these trying circumstances.  Please don't hesitate to contact us with any questions relating to employee ownership or employee share schemes in your company.
Address
Ground Floor, 9 Staple Inn, London, WC1V 7QH
Directions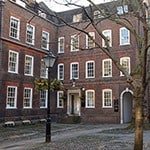 From Chancery Lane Underground:
Take Exit 3 (to your right after you have gone through the ticket barriers) signed for Barnards Inn, then keep walking in the same direction after reaching the top of the steps.
Immediately on your right you will see a black and white timbered building. After a few paces there is an archway.  Go through the arch, then you will see 9 Staple Inn in the top left corner of the courtyard. Go up the steps and press the access button to the left of the entrance door (our button is at the top right of the panel). Our office is the first on the right on the ground floor. N.B.  We usually come and open the door rather than buzz you into the building.